Johannes Nider
Isny 1380 - Nürnberg 1438


Johannes Nider was born in the Swabian town of Isny at around 1380 as the son of a cobbler. His father died when he was still a very young child. Johannes's talent was probably first discovered by the abbot of the local Benedictine monastery, where he went to school. In 1400 he entered the Dominican convent in Colmar, Alsace. Johannes Nider studied in Colmar and Cologne, where he was ordained as a priest and began working as a preacher and minister.
From 1414 to 1418 he got into contact with the Hussites at the Constance Council and tried to bring about changes in the church. Johannes Nider studied at the university of Vienna, from which he graduated with a "Magister theologiae" in 1425.
In 1429 he became prior of the Basel convent and opened his monastery to the participants of the council as a venue for their negotiations and also figured as the inaugural preacher. In 1434 he returned to Vienna and began teaching again. Two years later Nider became the dean of the school of theology at the university of Vienna. On his return from Colmar, where he had participated in the reformation of the nunnery, Johannes Nider died on August 13, 1438 and was buried in Nuremberg. His main works include "Formicarius" and "24 Golden Harps".

Publius Ovidius Naso
Fasti
4,218 $
Details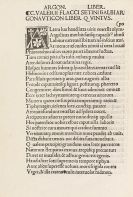 Valerius Flaccus
Argonautica
1,110 $
Details